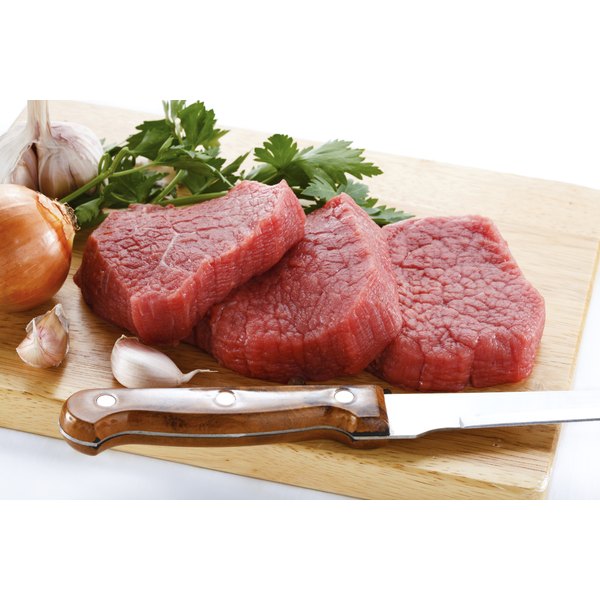 If you want to get lean, slim and slender, eat like a caveman -- that is the premise of the Paleo diet. Followers of the Paleo diet eat how humans supposedly ate tens of thousands of years ago, with a focus on animal products like meat and fish, along with plenty of vegetables, fruits and nuts. While the Paleo diet may be healthier than the average American's diet, losing weight isn't a given when transitioning to a Paleo plan.
The Fullness Factor
Feeling full is one of the biggest stepping stones in losing weight. It doesn't matter how strong your willpower is -- at some point, if you're feeling hungry, you will cave in. In a study conducted at the Center for Primary Health Care Research in Sweden, researchers found that subjects on a paleolithic diet reported greater feelings of satiety than those on a traditional diet based on guidelines recommended for diabetics.
Portion Control
Many people are sucked into the Paleo way of eating in a belief that they can eat as much as they like. While Paleo-friendly foods such as vegetables, poultry, lean red meat, fish and berries may be low in calories, this doesn't mean you can eat an unlimited amount. Instead of counting calories, control your calorie intake by reducing your portion sizes and only eating until you feel satisfied. If you're not losing weight, decrease your serving sizes.
Packing in the Protein
The Paleo diet is high in protein along with being higher in fat and lower in carbohydrates. A study published in a 2008 edition of the "American Journal of Clinical Nutrition" found that a higher protein intake increases satiety, increases calorie burn and promotes muscle maintenance and fat loss. By including a Paleo protein at every meal, you increase your overall protein intake, which could potentially speed up weight loss.
Caveman Weight Loss Solutions
If you've switched to a full-on Paleo diet and still aren't losing weight, don't worry -- you can still make changes to kick-start your weight loss. You could still be eating too much, notes nutritionist Mark Sisson of Mark's Daily Apple website. Nuts, nut butters and oils may have health benefits and be Paleo-approved, but they're still high in calories. While Paleo bans grains and refined carbohydrates, you could be overdoing it on the fruit front, adds Sisson. Try swapping fruits for dark green vegetables, or getting rid of higher sugar fruits like pineapple, mango and apples and opting for berries instead. Switching to leaner meat and fish over fatty beef, pork, salmon and mackerel can help cut your calories too.