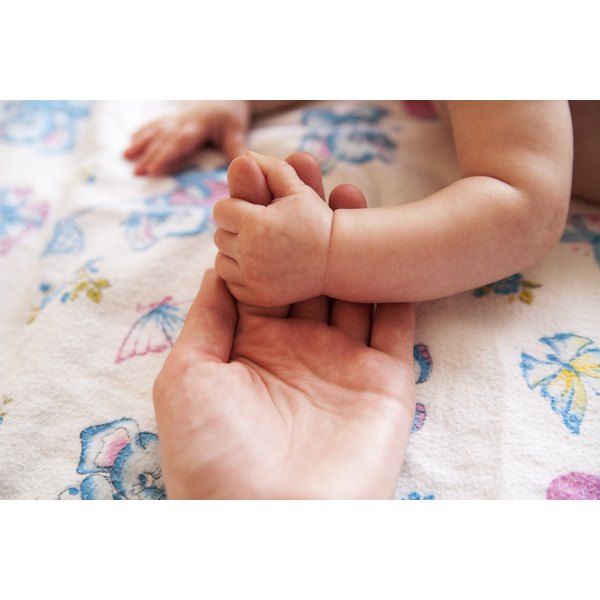 Becoming a mother over the age of 40 carries with it some significant risks, including: infertility, miscarriage, birth defects and c-section delivery. The March of Dimes reports that despite those increased risks, most women go on to have healthy pregnancies and healthy babies.
Infertility Over 40
According to the American Society for Reproductive Medicine, ASRM, women over the age of 40 have only a 5 percent chance of conceiving every month; as opposed to a 20 percent chance each month for women 30 years of age. As ovaries undergo normal age-related changes, a woman's chance of conceiving declines. Infertility is typically diagnosed when a couple have engaged in unprotected sex for one year and have not conceived. If a woman is over the age of 35 or has complicating medical issues, ASRM suggests starting with an infertility specialist as soon as conception is desired.
Birth Defects
As women and their ovaries age, the risk for Down syndrome and other chromosomal abnormalities increases. A 40-year-old woman has a 1:106 risk of delivering a baby with Down syndrome and a 1:66 total risk of delivering a baby with chromosomal abnormalities, as reported by the American Society of Reproductive Medicine. The ASRM also reports that a woman of 30 years has a 1:952 risk of delivering a Down syndrome baby and a 1:385 total risk of delivering a baby with chromosomal abnormalities.
Miscarriage
The risk of miscarriage increases with age. As a woman ages, so do her eggs. Eggs that have aged and are more likely to end in a miscarriage than a pregnancy involving a younger egg. The March of Dimes, MOD, reports that 35- to 39-year-old women have a 20 percent chance of pregnancy ending in miscarriage, while 40- to 44-year-old women have an increased risk of 35 percent. This increase is caused, according to the MOD, by the increased risk in chromosomal abnormalities in pregnancies that occur in women over the age of 40.
C-Section Over 40
C-sections are more than two times more likely to occur in women over the age of 40 than mothers who are 20 and younger, according to the March of Dimes. C-section births are generally considered safe and most mothers and babies do well. There are, however, risks that accompany major surgery and anesthesia: Risk of infection and poor reaction to anesthesia are two .
Parenting
There may be many medical obstacles confronting the older woman who would like to conceive and become pregnant, infertility, higher risk of chromosomal abnormalities, miscarriage and C-section births. There are however, some pros. Babycenter.com cites financial and relationship stability as good outcomes of waiting until the age of 40 to begin a family. Patience with parenting, better nutritional choices for their children may also be benefits of waiting to become a mother.