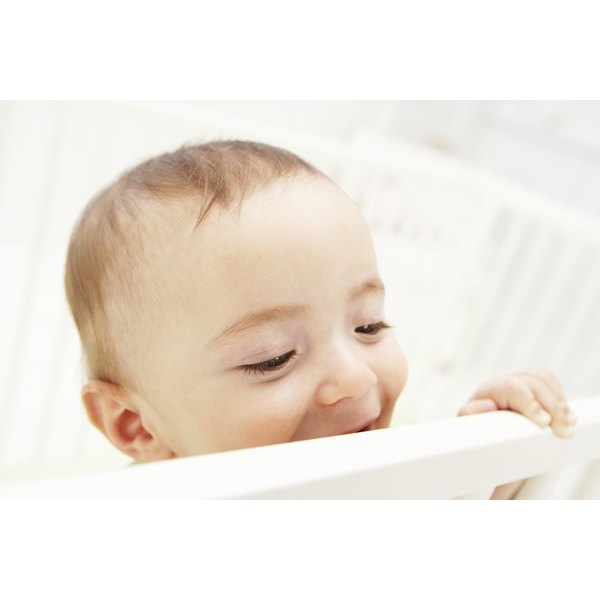 As long as children are sleeping in a crib, it is easier to deal with nap times and bed times because once you put them down to sleep, they can't go anywhere. Once children are in toddler beds or twin beds they can just get up and play or even leave the room. Some parents resort to crib netting or crib tents to keep their children in cribs for longer. However, there are safety issues with these crib tents.
Function
Crib netting prevents children from climbing out of the crib by covering the top of the crib with a dome of netting. This is meant to keep children from getting hurt, since they can no longer jump or fall from the top of the crib, and it keeps them inside the crib rather than wandering around the room or the house. This netting can also keep animals and bugs from getting into the crib and harming the child.
Features
There are two different types of crib netting. One type is mainly used with portable cribs, and consists of poles that slide through pockets in the mesh to make a dome shape and clips that attach it to the top of the portable crib. The other common type of netting for cribs consists of a mesh dome with a bottom that sits inside the crib, with the mattress and the child both inside. Both types have a zipper that opens the tent, with the zipper on the outside so the child cannot open the tent himself.
Considerations
Crib netting is a temporary solution. By the time a child can climb out of the crib she is likely to be getting too big for the crib already. Sooner or later, you are going to have to move your child from the crib to a bed; a crib tent just delays the inevitable. When your child is around 2 years old or 35 inches tall, it is time to move her to a bed, according to "Parents" magazine.
Warning
Between late 2007 and July 2010, there were at least 10 incidences in the United States where children were injured because of crib tents, including one death, according to the Consumer Products Safety Commission (CPSC). Only use these tents with the parts that come with them, and stop using them should they become damaged in any way. If the tent rips or if the seams, ties or zippers become damaged, the child can get tangled in the tent and choke or suffocate, the CPSC warns.
Expert Insight
Consumer Reports recommends putting your child to sleep in only a bare crib, without netting or anything other than a mattress with a tight fitting sheet, and moving your child to a bed as soon as she becomes too big for the crib or tries to get out of the crib. Consumer Reports says this is the safest method, given the risks of using crib netting or other additional items in a crib.