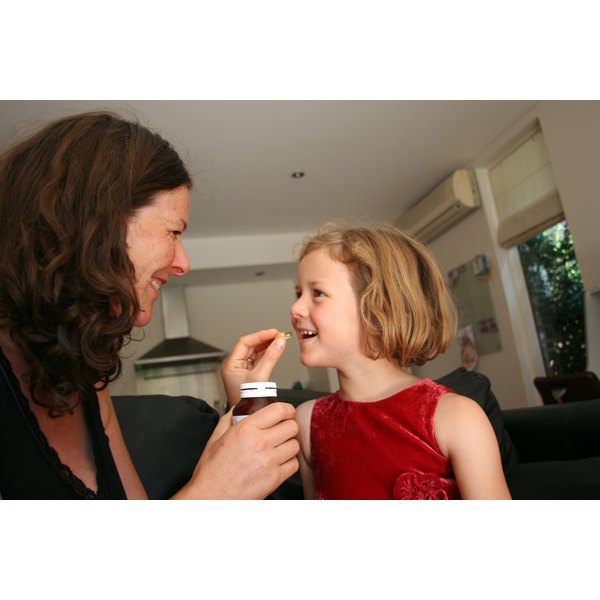 DMAE, or 2-dimethylaminoethanol, is a natural compound used to treat various central nervous system and brain disorders. It's available as a dietary supplement and commonly marketed as a memory and mood enhancer, although clinical evidence to support these claims is lacking. DMAE may offer potential benefits, but science has yet to determine its efficacy for specific conditions. Consult your health care provider before taking DMAE.
Scientific Interest
Scientists believe DMAE may work by increasing levels of the chemical acetylcholine, a neurotransmitter that facilitates communication between neurons. It's found throughout the nervous system and in key areas of the brain; low levels of it are linked to Alzheimer's disease, according to the University of Texas Medical School. However, scientists have yet to discover whether DMAE truly increases acetylcholine levels.
Skin Care Use
DMAE is added to various skin care products to improve skin aging. A 3 percent DMAE facial gel applied daily for 16 weeks helps reduce forehead lines and fine wrinkles, according to a review published in the 2005 issue of the "American Journal of Clinical Dermatology." The effects remained two weeks after discontinuation, according to the study. Researchers noted benefits for under-eye dark circles, sagging neck skin and neck firmness. However, more studies are needed to determine the efficacy of DMAE versus other skin care regimens.
Potential ADHD Benefit
Evidence exists to suggest DMAE may benefit those with attention deficit hyperactivity disorder. In a study cited by NYU Langone Medical Center, children who took a gradually increased dose of DMAE over the course of 10 weeks showed improved test scores compared to children who took a placebo supplement. Because the evidence is from studies performed in the 1970s, more up-to-date clinical research is necessary before drawing a solid conclusion.
Safety
All supplements have the potential to cause unwanted side effects, although clinical data have shown that most users experience no negative side effects from DMAE, according to NYU Langone. However, occasional reports of increased blood pressure, drowsiness, head and muscle tension, weight loss and insomnia have led medical researchers to advise caution when using DMAE supplements. The therapeutic dosage of DMAE used in studies varies from 400 to 1,800 milligrams.