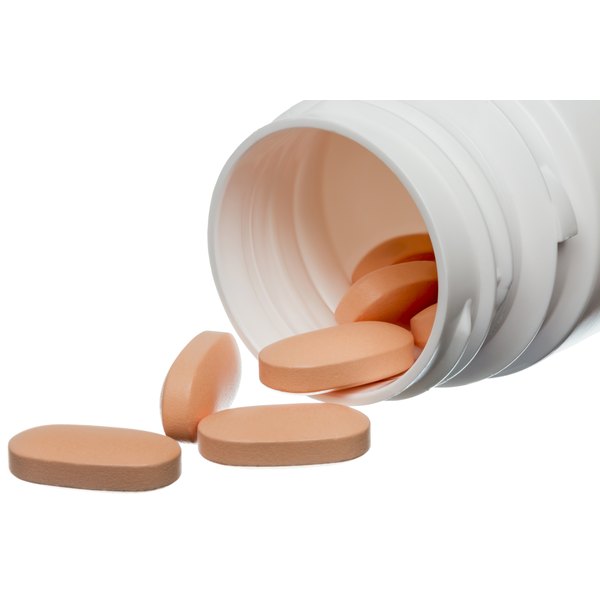 Even if you follow a nutritious diet and eat plenty of fresh foods, you may not be obtaining all of the essential vitamins and minerals your body needs for optimal health. Because of this, you may want to supplement with a multivitamin. These supplements provide vitamins, minerals and often contain herbal extracts that may promote increased energy and improved health. Mega Food manufactures daily multivitamins for men, women and children that provide a number of nutrients as well as herbal ingredients. These ingredients may have side effects, so research them carefully and consult a doctor before using.
Vitamins
According to the official website for Mega Food supplements, a number of vitamins are among the main ingredients of the company's multivitamins. These vitamins include vitamin A, B-6, B-12, C, D3, E and K. In addition, Mega Food multivitamins contain vitamin B-1 in the form of thiamine and vitamin B-2 in the form of riboflavin. The National Library of Medicine and National Institutes of Health note that vitamin K is a particularly important nutrient, as it is involved in blood clotting and may promote bone health.
Minerals
Also included in Mega Food multivitamins is a variety of minerals. These minerals include iron, calcium, phosphorous, magnesium, zinc, copper and chromium. Although these minerals have beneficial effects, the health website Ask The Dietitian explains that some, such as chromium, may have adverse effects. Although chromium does help your cells absorb glucose and release energy, Ask The Dietitian explains chromium has potential side effects, such as damaged cell chromosomes. The website also notes that claims of chromium's weight loss benefits are not scientifically supported.
Herbal Extracts
Although not all multivitamin supplements contain herbal extracts, Mega Food multivitamins do contain some. Among these extracts are nettle leaf, dandelion leaf, gotu kola leaf and hawthorn berry. According to the University of Maryland Medical Center, hawthorn extracts may be helpful in promoting heart health. The center explains that hawthorn contains antioxidants that may protect your blood vessels and improve blood flow. Although hawthorn may help control high blood pressure, the University of Maryland Medical Center advises against attempting to treat yourself without a doctor's supervision, as hawthorn may interact with other medicines.
Herbal Roots
In addition to herbal extracts, Mega Food multivitamins contain herbal roots. These roots include ginger, ginseng, licorice, dandelion and sarsaparilla. Ginger root is an herbal ingredient purported to have a wide number of potential benefits, ranging from motion sickness relief to to inflammation reduction, according to the University of Maryland Medical Center. The center notes some research suggests ginger may assist in reducing cholesterol, but there is not sufficient evidence to support these claims. In addition, large doses of ginger may cause heartburn and diarrhea, so do not use herbal supplements without a doctor's supervision.