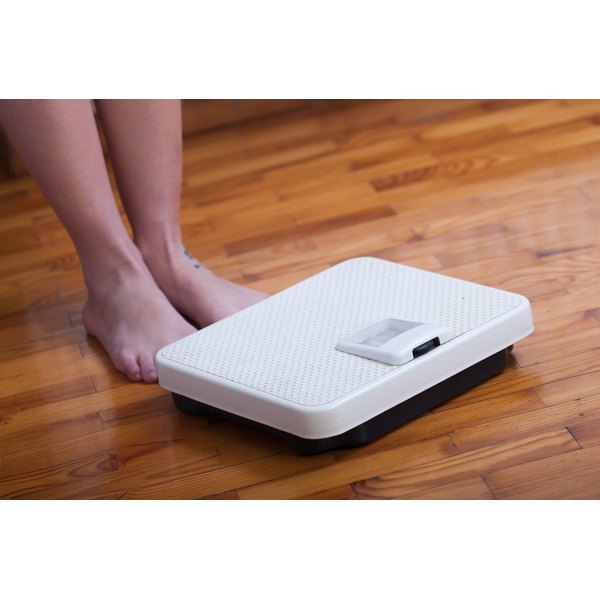 The Weight Watchers diet concentrates on several areas including making wise food choices, getting regular exercise, and finding a supportive environment. This diet is ideal for people who need a strong support network and who want to learn how to manage weight with a successful lifelong plan, according to Judith Rodriguez, author of the "Diet Selector." However, Rodriguez also cautions that the diet may not be best for people who cannot go to the meetings, an important part of the plan, or for people who do not want to exercise, follow a rigid food plan or talk to other people about weight issues.
Points-based Food System
The Weight Watchers plan teaches you how to eat your favorite foods in moderation. There is not a forbidden food. Instead, the diet helps you control calories with a Points food system, where you can eat any food as long as you track the points value and watch the portion sizes. Every food has a points value. The key is to stay within your personal daily points allowance, calculated by your age, gender, current weight, height and activity level. With the food plan, also called Momentum, you do not have to give up your food favorites to lose weight. You can eat food from all of the food groups including whole grains, fruits and vegetables, lean meats and fish and dairy products.
Portion Control Education
Portion control and low-energy density foods are a key concept for Weight Watchers. The plan shows you how to cook many dishes that are lower in calories than their original versions, according to Rodriguez. Portion control can also be used in any food setting for successful weight management, since you learn how to measure and you learn about the right serving sizes.
Support Network
Weight Watchers offers an online version for subscribers. If you are a member, you do not have to pay for weight-loss services including the Internet tools. Support is also provided through weekly meetings and weigh-ins. Weight Watchers rewards its participants with a lifetime membership once you reach a healthy body weight and complete a six week maintenance plan, according to Rodriguez.
Cost
Weight Watchers is a branded program and cost may be a factor for some dieters. You have to pay a registration fee to join the program, and there is a weekly meeting fee that varies by location. If you have a credit card, the company offers a monthly pass for about $39.95, which covers weekly meetings and the online program. The pass automatically renews each month at the standard monthly rate, and you are charged up to 15 days before the end of your second month. You can cancel your membership at any time.
Weekly Monitoring
Weight Watchers is a structured plan that requires a weekly weigh-in to track your progress. When you join the plan, they give you a card that allows you to skip this process for one meeting only. The weigh-in is performed by one person, usually at the front desk when you check in, so it is kept private. This diet is not good for people who do not like regular monitoring.