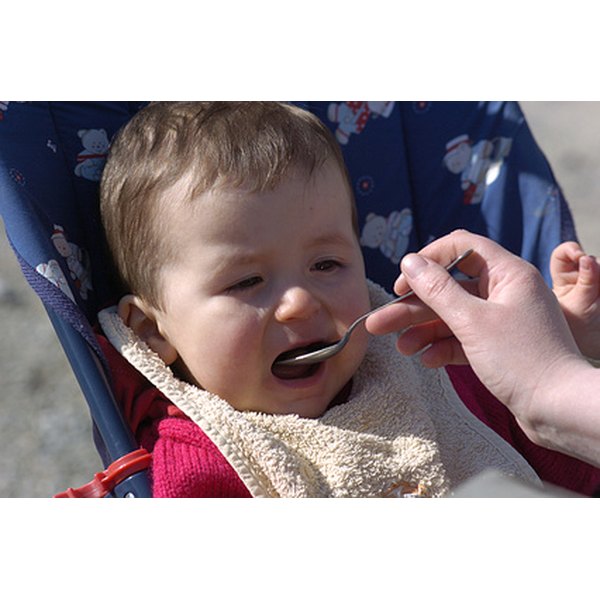 Making your own baby food has health benefits and can save you money. According to the National Network for Child Care, homemade baby food doesn't contain as much water, starch or sugar as the jarred varieties. This can also get your baby used to eating foods your family enjoys that don't come in a jar. Making big batches of baby food and freezing it saves you time and enables you to prepare a quick and healthy meal for your baby. Homemade baby food is simple to make and is something you can feel good about giving to your baby.
Wash your hands thoroughly with warm water and soap. This will keep your work area and the foods you are preparing sanitary. Dry your hands well after washing them.

Clean all utensils and containers you will be using for preparation. Use mild dish soap and water, or run them through the dishwasher. These utensils include a food mill or masher, pots and pans, spoons and storage containers. Wipe the counters where you will be working as well.

Prepare foods for cooking. Peel and seed fruits and vegetables. Good choices include squash, sweet potatoes, peas, carrots, avocado, peaches, mangoes and bananas. Cut fat, bones or gristle from the meat.

Cook fruits, vegetables and meats until they are soft. Boil the foods in a small amount of water to preserve nutrients. You can also steam or bake them.

Puree the cooked foods using a food mill or grinder or a potato masher. You can also use a blender or food processor. Grind the food until it is smooth. Add water if needed to achieve the desired consistency. Babies who are 6 months old will need very thin, completely pureed food; but as they get closer to their first birthday, they can eat foods with some chunks, similar in texture to jarred baby food.

Place the food in containers for storage. Allow the baby food to cool before you store it. Refrigerate the food in small plastic containers if you will be feeding it to your baby soon. For long-term storage, the baby food should be frozen to prevent spoilage. Ice cube trays work well for this, says the University of Maine Cooperative Extension. Trays allow you to portion-control your baby food, but transfer them to a freezer container or bag for long-term storage once they are completely frozen.

Serve after heating in the microwave. Don't microwave food in plastic containers. Test the food before you feed it to your baby to guard against hot spots. Stir the food well and feed it to your baby at meals or as a snack.

Tip

Refrain from adding salt or sugar to homemade baby food because babies don't need them. Getting them used to eating plain foods will help them acquire a taste for foods without excessive seasoning.

Watch for food allergy symptoms when feeding your baby a new food, and introduce only one new food at a time.