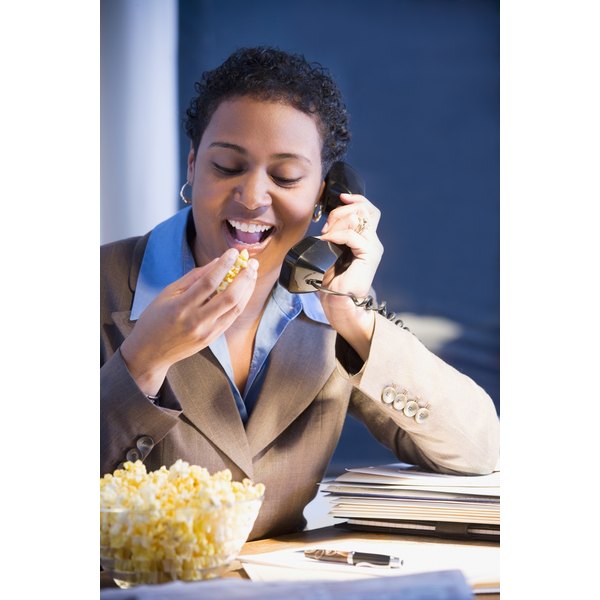 There are lots of different versions of the Popcorn Diet online. Some call for substituting one meal a day with popcorn and eating whatever you like at the other meals. Some plans recommend a high-protein, low-fat diet and eating nothing but popcorn as snacks. Others note vaguely that you should consume other healthy and nutrient-rich foods along with the popcorn. The only constant on the Popcorn Diet food list is--popcorn.
Popcorn
Popcorn can be a healthy snack that's high in fiber and low in calories, if you prepare it the right way. If you choose to go on the Popcorn Diet, load up on popcorn kernels and an air popper. To keep it a healthy snack, prepare the popcorn with no butter, oil or salt. Unfortunately, DietBites.com, TheDietChannel.com and SlimmingForAll.com agree that eating bland popcorn may be healthy, but it can get boring very quickly. The reviews note it's hard for most people to stick with a diet like this. The website ThePopcornDiet.com sells seasonings for the popcorn that it claims will provide nutrition and control hunger while on the diet.
Pros
If consumed in moderation, popcorn can be a good component of a healthy diet that can be fun to eat. DietsInReview.com notes that the fiber in popcorn may help control hunger and boost digestion. If you combine the popcorn with a balanced diet of nutritious foods, you can lose weight. DietBites.com points out that popcorn is widely available and comes in many varieties. It also tends to be an inexpensive snack.
Cons
TheDietChannel.com reports "there's nothing wrong with eating popcorn as part of a normal diet." However, it notes the Popcorn Diet is not a good idea. When eating bland popcorn gets boring, TheDietChannel finds people get tempted to add some butter and salt for flavor, making popcorn a snack high in fat, calories and sodium. It also points out that corn is a common allergen that can cause breathing problems, hives and gastro-intestinal upset. In addition, DietBites.com notes that too much corn can block the absorption of vitamin B. People with vitamin B deficiencies may "experience skin rashes, depression, anemia, memory loss, and low energy levels." Popcorn also poses a choking hazard for small children, which may be a concern for some dieters.The diet review sites tend to dismiss this diet with words such as "bad" and "not effective."