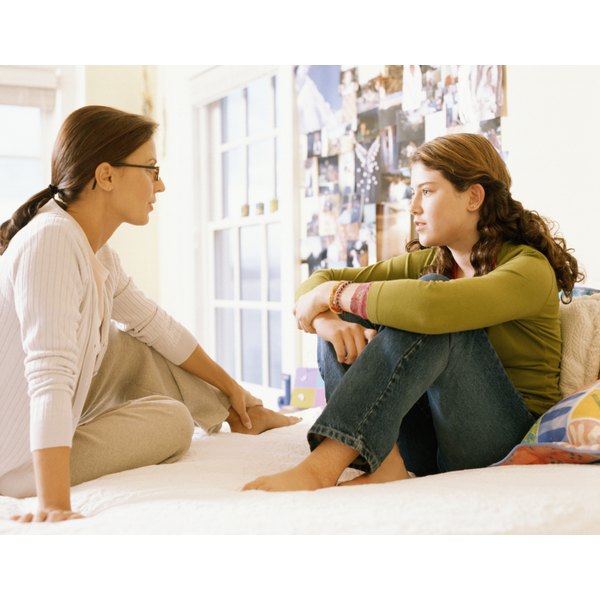 The transitional period between childhood and adulthood is characterized by physical and psychological changes that can be awkward -- but also exhilarating -- as adolescents discover new and different experiences. A number of social, economic, and individual factors concern parents and communities alike. Helping teens balance these different areas may prevent, or reduce, situations that could prove problematic. As friends and appearance become more important, family and community groups become less important. In the process of seeking autonomy, they may indulge in inappropriate activities and take perilous risks.
Eliminating Violence
The culture in which children traverse the traumas of adolescence is fraught with aggression on every front. They often hear it in music and see it in online games, on television, in their own homes, or in their neighborhoods and schools. Violent games and television shows contribute to the high incidences of violence in our culture, according to the American Medical Association. Children become desensitized to the actions they see and hear, possibly finding it difficult to have empathy in reality. Get to know what your children are hearing or viewing. Help them understand the complexities surrounding poor choices, and monitor their time spent on the computer and watching television.
Considering Peer Pressure
Increased peer identification during adolescence may create a chasm between families and teens. As adolescents interact with different peer groups, parents cease to be the most important influence in their lives, and the desire to "fit in" may overshadow their good judgment and cause rifts where there has been harmony in the past. You can keep the lines of communication open by acknowledging that their peers may not be bad influences, nurturing self-esteem so they will develop constructive relationships and having reasonable restrictions that all of you can accept.
Preventing Drug Use
Teens commonly experiment with drugs or alcohol; however, the consequences of these behaviors may create future problems, such as serious drug use and poor academic performance. Watch for changes in physical and emotional health, attitude toward school and family and different friends who may have less conventional values than yours. If you find that your teen is using drugs, intervene immediately. You can help by communicating openly, modeling responsible behavior, and providing the necessary arrangements with counselors or established professional intervention programs.
Denouncing Bullies
Bullying is a serious problem that is growing in schools. Whether it is physical or emotional, it injures children's beliefs about themselves. Without adult intervention, adolescents who suffer this kind of ongoing harassment and abuse may retaliate violently or even commit suicide. According to the Zur Institute, 20 percent of children in schools bully others or are bullied themselves, but it often goes unnoticed by adults whose positive influence could make a difference. If you know or suspect your child is being bullied, do something. Do not assume it is a childish prank that will go away. Support him by teaching him to be assertive but not confrontational, insisting that the school provide programs to address the problem, and, if needed, reporting it to the police.