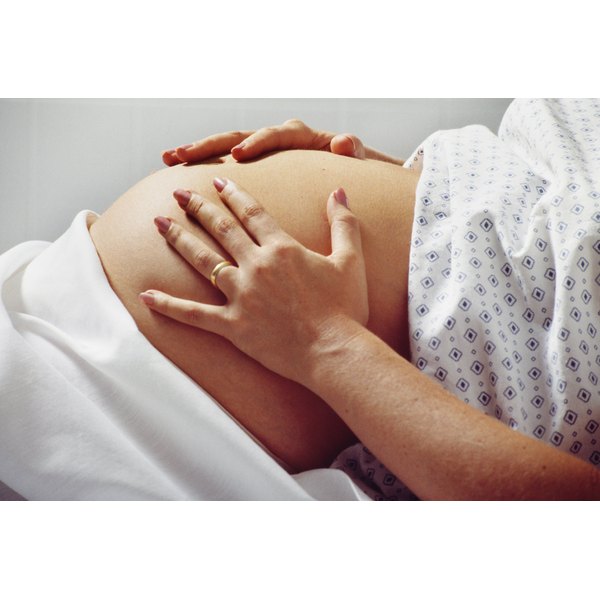 Preparing for your baby's arrival can be a busy time with many decisions to make. It can also be a stressful time, trying to determine if you have everything you and your baby need for a great start. With so many products to choose from your top priority should be safety, followed by necessity and usefulness.
Breast and Bottle Feeding
Because the American Academy of Pediatrics recommends you breastfeed exclusively for your baby's first 6 months, have a nursing pillow on hand, as well as burp cloths, nursing pads, lanolin ointment and a pump with storage bags if you want others to bottle feed breast milk to your baby. If you choose to bottle feed, have 4 to 12 bottles as well as a dishwasher or counter top bottle sterilizer available. Add infant formula recommended by your baby's pediatrician to the list for bottle-only feeding.
Diapering and Personal Care
Babies go through a lot of diapers, over 300 in the first month alone according to KidsGrowth.com, so set up a safe changing table with straps and a changing pad, diapers, wipes, rash cream and a nearby diaper pail. You will also need a hairbrush with soft bristles for taming longer hair or clearing up cradle cap, baby nail clippers, a bulb syringe for clearing nasal mucus and digital thermometer for checking temperature.
Bathing, Soothing and Sleeping
Babies are messy, so prepare with a baby bathtub, two infant washcloths, a hooded bath towel and baby shampoo or body wash. Soothe your baby with an infant swing set at the utmost reclined position, but not while she's asleep: the AAP has listed this as a possible suffocation hazard. Your baby may want to use a pacifier for self-soothing. Pediatrician George Cohen with BabyCenter.com suggests waiting until she is a month old before introducing a pacifier to ensure breastfeeding is well-established. When your baby is tired, place her on her back in a new crib or upon a firm bassinet mattress. Avoid crib bumpers, pillows, blankets and toys as these pose a possible suffocation hazard and might contribute to Sudden Infant Death Syndrome, according to the Consumer Product Safety Commission and the AAP.
Clothing and Swaddling
Babies grow fast, so start with just the basics: three or four swaddling blankets; five to seven each of one-piece outfits, sleepers, shirts and pants; two hats and one pair of mittens plus snowsuit if it's winter; several pairs of socks and booties and five sweaters or other outer garments. The CPSC also recommends you check for choking hazards such as drawstrings on jackets when you buy clothing for your baby.
Playtime and Travel Time
Newborns need very little in the way of toys but might enjoy a soft rattle or book, or a mobile hung high above the crib with no dangling cords. Always use an approved rear-facing car seat when your baby rides in a car, and once you arrive, you can move her to a baby sling or buckle her into a stroller with locking wheels.