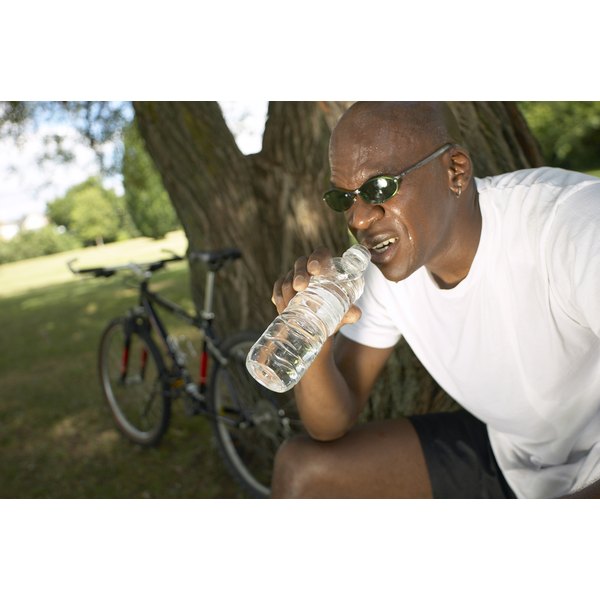 Water bottles and hydration are an often overlooked, yet integral part of cycling. A rider in a competitive race like the Tour de France can go through as many as two water bottles every hour. On a team consisting of four riders, that means more than 60 bottles can be used in a single day, most of which are tossed to the side of the road when empty. Don't let the peloton have all the fun; choosing the best water bottles for your bike could be a real boost to your next race.
Get Professional
Generally, the bottles used by cyclists are as simple and lightweight as possible. Since riders go through so many bottles per race, they're cheap and simple to make refueling a simple process. The classic bite valve lets a rider open the bottle with their teeth, and also allows them to hold the bottle there if they need to suddenly place both hands on the handlebars. Professional riders often fill their bottles with energy supplements and electrolyte mixes to replenish nutrients and essentials that are lost during an arduous race. The best water bottles for a rider -- who isn't throwing her bottles on the side of the road once they're empty -- don't necessarily fit the "minimalist" ideals of the road cyclist.
Jet Propulsion
Water bottles for training can have a number of features that make them superior to the basic bottles used by competition. First, many training bicycles have different valve systems. Some valves allow water through at certain pressures, giving them a "jet" of water when they're squeezed enough, which is perfect for quickly getting water without having to suck on the bottle, says Cycling Active. Other valves use a soft nozzle that only opens when you bite on it, which eliminates the need for a tightly sealed cap. These softer valves are often the simplest and most comfortable.
Keeping Your Cool
Insulated bottles can be a lifesaver for riders who train in extreme heat or cold. These bottles have an airspace or reflective layer inside the walls of the bottle, which keeps cold liquids colder on hot days and prevents freezing on especially cold days. Cold water can be a welcome relief after a long ride, and can even help reduce your core temperature when you're at risk for heatstroke. Insulated bottles cost more, but are usually the best for the money given the benefits, says Cycling Active.
Stowing Your Drink
Keeping your drink mounted to the bicycle is an important factor in choosing the best bottle system for your ride. Most cycling-specific bottles will have an indentation near the neck that provides an easy grip and pairs nicely with water bottle cages, keeping them secure over rough pavement. A good water bottle keeps its shape, even when empty, since this will keep it firmly nestled in its cage. Mountain bikers need an even stronger grip on their water bottles on rough trails, and often use cages that keep bottles in place with straps.