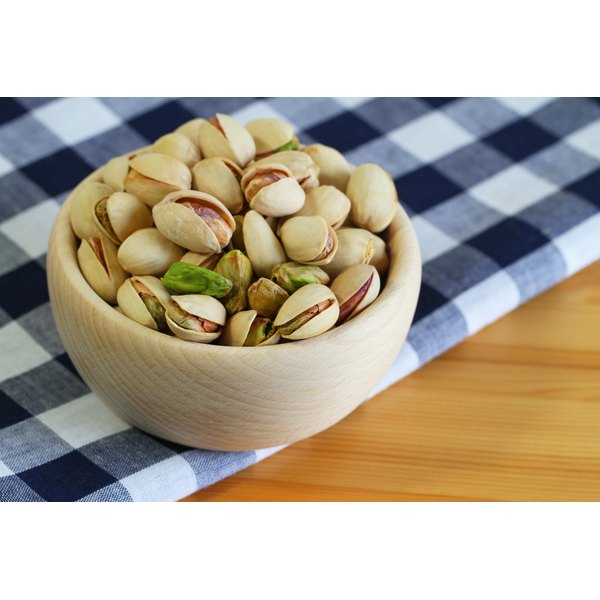 Many of us have been led to believe that "nuts" and "weight loss" don't belong in the same sentence. High in calories and fat, nuts have been traditionally dismissed as a diet "don't" or an occasional indulgence. However, data suggests that nuts may keep you fuller than conventional diet foods and may actually promote weight loss. Because of the fat and calorie content in nuts, enjoy nuts in moderation if you're trying to lose weight.
Pistachios
Rich in vitamins and minerals, pistachios are also among the lowest calorie nuts, delivering just 160 calories for about 50 nuts, reports Sassafras Station. Pistachios offer an ample 2.9 grams of fiber per serving,which aids in a feeling of fullness. Sassafras Station reports that pistachios provide a useful visual aid to remind you of how much you've consumed. Unlike many other snacks, the discarded shells of pistachios can help you remain mindful of how much you're eating.
Almonds
Much has been reported about the health and weight loss benefits of almonds, and with good reason. Medical News Today cites a study conducted at the City of Hope National Medical Center in Duarte, California, which found that dieters who ate almonds as part of a weight loss program lost more weight than those who didn't. According to Medical News Today, some researchers also believe that the cell walls of almonds effectively block fat.
Pine Nuts
Studies have also suggested that Korean pine nuts may provide an unexpected weight loss benefit. Science Daily refers to a study presented at the American Society for Pharmacology and Experimental Therapeutics meeting, which reported that pine nut oil may have an appetite-suppressant effect. Science Daily reports that the pine nut oil releases two appetite suppressant hormones at the same time, decreasing the desire to eat within 30 minutes.