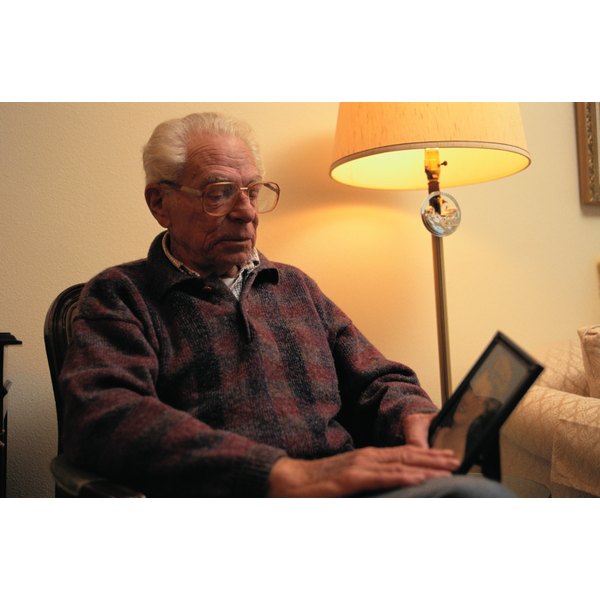 You receive little guidance, and often little preparation, to help you cope with the painful trauma of losing your wife. When your world has been transformed by tragedy, it is not unusual to experience emotions that emulate a roller coaster ride. Everyone experiences and expresses grief differently, advises HelpGuide.org in the article "Coping With Grief and Loss." You can learn to cope after the death of your wife by remembering to be patient and kind with yourself, and allowing others to be kind to you as well.
Reboot and Refuel
Grief can create physical and emotional fatigue, so it's crucial to safeguard your health with nutritional food, adequate sleep and exercise. Protecting your physical health will help you to cope with the emotional stress related to your loss, according to Helen Fitzgerald, certified lecturer in thanatology by the Association for Death Education and Counseling, in the AmericanHospice.org article "Helping Yourself Through Grief." A diminished interest in food is common, so keep healthful food choices on hand as reminders to refuel your body. Avoid junk food, and try spacing out several small meals throughout the day if three conventional meals seem overwhelming.
Break Down the Walls
Grief can build emotional walls that feel insurmountable, isolating you from others. Resist the temptation to remain behind those walls. Permit your friends and family members to serve as loving sources of support for you, but remember to communicate your needs to these individuals who want to help. Family members and friends can help best when you don't leave them to wonder what to for you, so tell them. Consider the additional sources of caring support available through the support groups sponsored by churches, hospitals and community agencies, recommends the National Institute on Aging in the article "Mourning the Death of a Spouse" on its website.
It's Okay to Cry, or Not
Express your feelings in ways that fit your personality and emotional needs. Disregard what others recommend concerning how you should process your feelings of grief, and do what feels best for you. In its article "Coping With Bereavement," Mental Health America reports that although crying is a common physical expression of grief, some individuals experience physical symptoms related to their grief such as stomach problems, sleep disturbances and poor appetite. Psychological expressions of grief include anxiety attacks, depression and suicidal ideation.
Tidal Waves of Emotions
During the process of grieving for your wife, it's not unusual for feelings to sometimes seem unmanageable. However, if you feel worse instead of better with time, or simply overwhelmed by your emotions, consult a mental health professional to assist you. Red flags that signal you need professional help include wishing you had died with your wife, an inability to resume your usual daily activities and feeling that life is no longer worth living.