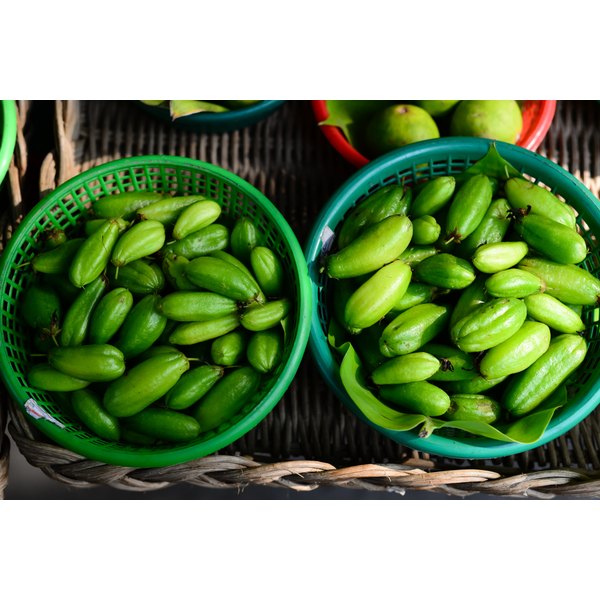 Two different species of garcinia are garcinia mangostana and garcinia cambogia. This tropical fruit is native to Thailand but is also grown in Indonesia, the Phillippines, Malaysia, Africa, and South and Central America. Garcinia mangostana, or mangosteen, is the size of a tangerine with a purple skin that is similar to a pomegranate. It is revered for its tasty white center pulp. Garcinia cambogia, or Malabar tamarind, produces a more sour fruit that is popular in Asian cooking as a condiment and food preservative. According to the American Herb Association, the rind of both species contains its medicinal properties and has a number of health-promoting uses, although there is insufficient evidence to support these claims. Consult with your health care provider prior to using garcinia.
Weight Loss
According to a 2009 issue of "Alive: The Canadian Journal of Health and Nutrition," garcinia cambogia rind contains hydroxycitric acid, or HCA, which can block the conversion of starch and sugars into fat, thereby reducing fat production. HCA may also help raise serotonin levels in your brain, which may suppress your appetite and contribute to a feeling of fullness. Avoid taking garcinia cambogia for weight loss if you are pregnant or breast-feeding, have diabetes mellitus or Alzheimer's disease.
Anti-Inflammatory
According to Lindsey Duncan, a naturopathic physician and certified nutritionist, the rind of garcinia mangostana contains xanthones, which have powerful antioxidant acitivity. Xanthones can help reduce inflammatory enzymes in your body. This makes garcinia beneficial for inflammatory conditions like cardiovascular disease, rheumatoid arthritis, cancer, lupus, Crohn's disease and ulcerative colitis. Consult with your health care provider prior to taking garcinia mangostana for inflammation.
Anti-Cancer
A study published in "Planta Medica Journal" in 2002 stated that the xanthones found in garcinia mangostana may be effective against liver, stomach and lung cancers. Another study published in the January 2004 issue of the "Journal of Ethnopharmacology" found that garcinia mangostana had strong antioxidant effects and was effective against breast cancer. Additional studies show that this superfruit may also inhibit growth of kidney cancer, melanoma and leukemia. Consult with your health care provider prior to using garcinia mangostana for cancer.