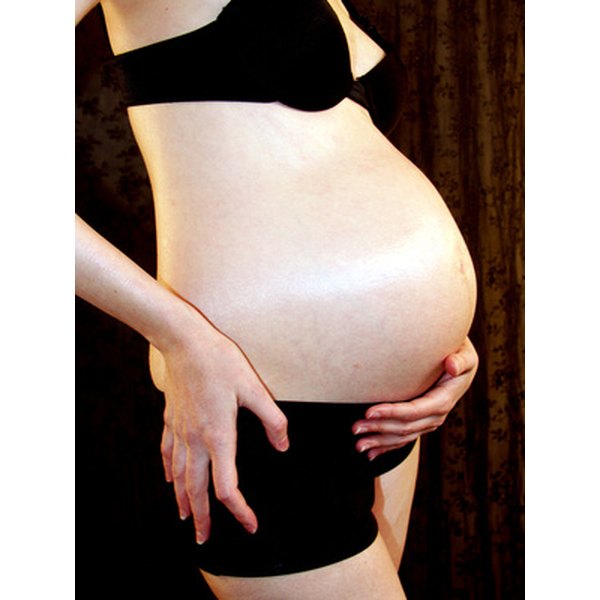 At 32 weeks pregnant, a mother-to-be is already in the final trimester of her pregnancy. By now, the baby weighs about 3.75 pounds, is about 16.7 inches long and has toenails, fingernails, and real hair, reports Baby Center. Some complications can occur around this stage of pregnancy, so women at 32 weeks should continue complying with their prenatal care so that any potential problems can be recognized early and treated.
Placenta Previa
Women may experience placental complications 32 weeks into their pregnancy. With placenta previa, the placenta is covering either part or all of the cervix. According to the American Pregnancy Association, placenta previa affects about one in 200 pregnant women in their third trimester of pregnancy. Common complications from placenta previa include hemorrhage and premature birth.
A pregnant woman may require complete bed rest towards the end of her pregnancy to prevent additional bleeding and preterm labor. In some cases, a woman may require a blood transfusion. Many women who suffer from placenta previa will require a C-section delivery.
Preeclampsia
Preeclampsia is a condition during pregnancy in which a pregnant woman's blood pressure rises and protein is present in her urine. She may also experience extreme swelling, which is more likely to occur in the hands and face. This condition may be diagnosed at 32 weeks of pregnancy by a routine blood pressure check and urinalysis.
Severe preeclampsia may lead to seizure, which can deprive the fetus of oxygen. Women may be treated with dietary modification and medications to treat high blood pressure. In certain situations, a baby may need to be delivered prematurely if a mother's preeclampsia can not be properly controlled.
Premature Labor
A possible complication when 32 weeks pregnant is premature labor. According to Baby Center, when a baby is delivered prior to 37 weeks, it is called a preterm birth and the baby is considered premature. Poor nutritional status, maternal infection, placental complications and smoking may lead to an increased risk for premature birth. In many cases, the cause of premature birth remains unknown.