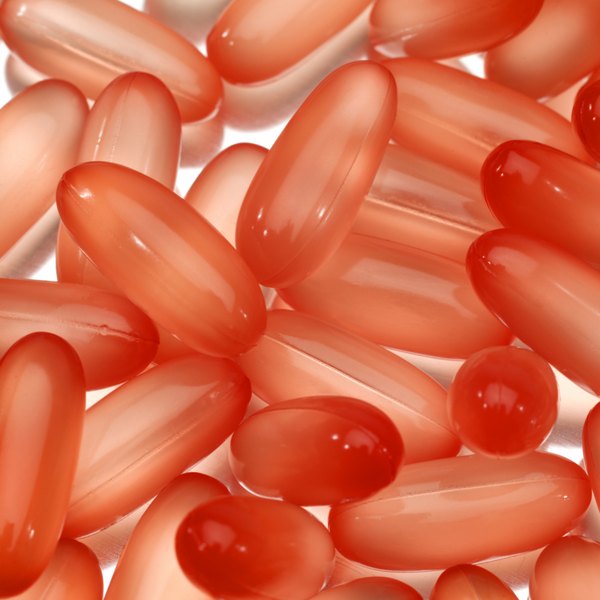 Ingredients
Celadrin comes in two forms: gel capsules and a topical cream. The gel capsules contain a mix of fatty acids (a proprietary blend and not publicly available) and other ingredients, which include olive and soybean oil, gelatin and glycerin, which form a gel that can be hardened and formed into pills. Celadrin's topical cream contains the same mix of fatty acids, benzyl alcohol, glycerin, lecithin, olive oil, menthol and peppermint oil (to make the cream feel cool and soothing), water, and a mixture of other oils and alcohols. These ingredients form an emulsion, a mixture of oils and water that forms a spreadable viscous cream and keeps the fatty acids dissolved.
Propietary Fatty Acid Mix
The composition of Celadrin's fatty acid blend is generally not published, even in articles in scientific journals, but the fatty acids are identified on some health food and supplement websites, such as Vitamin Lady (see link below). The fatty acids in Celadrin are cetylated oleate, laurate, palmitate, myristoleate, palmitoleate and myristate. These fatty acids are present in the membrane that surrounds all cells, which is made of two layers of fatty acids along with phosphorus and a few proteins. These fatty acids protect the inside of the cell called the cytoplasm and provide support and cushioning. The fatty acids are also used to generate chemical signals to other cells.
Effects
According to a study published in the Journal of Rheumatology, Celadrin may reinforce and protect the cells in joints with its mixture of fatty acids, which helps to heal damaged cell membranes. Celadrin may also aid in the fluidity of these membranes, or how easily the fatty acids move around within the membranes. This fluidity allows these cells to remain intact under the physical stress of a joint. It may also prevent a triggering of the immune system that results from damaged cells, which often causes the swelling and pain associated with arthritis.