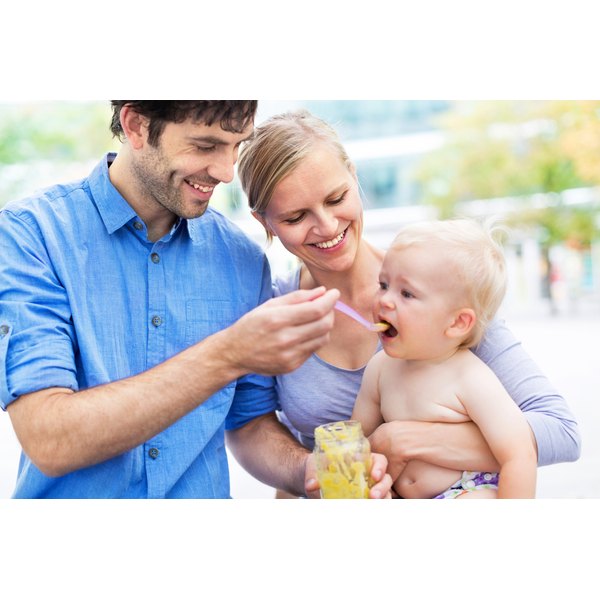 Baby food has changed. Where once there were only two brands of jarred baby food fighting it out in the grocery aisle, now there are both canned and frozen or refrigerated options, many of them organic. Buying organic baby food avoids feeding your baby pesticide residues and is gentler on the environment, too. Frozen food tends to preserve the nutrient content better, while canned is more convenient, portable and green, due to the lack of electricity used to store it.
Tastybaby(TM)
Tastybaby(TM) is a frozen baby food brand found in major supermarket stores. The products are blast-frozen to preserve the maximum nutrients possible, and they have a company commitment to supporting sustainable agriculture and using biodegradable, reusable and recyclable packaging materials. One of the founders is a trained chef, which accounts for the well-balanced flavors of their products, which include a banana-mango puree called Bangoes, a sweet potato, apple and cinnamon mix called Sweetie Pie and a pea, mint and brown rice combination called Peas on Earth.
World Baby Foods
World Baby Foods offers glass jars filled with organic blends based on world cuisines. Some are sweet, like Sweetie Tahiti, a blend of coconut, banana and rice. Some are savory, like Que Pasa Calabasa, a Mexican squash and sweet potato mixture seasoned with a touch of chili. The founder of the company, Dr. Susanna Block, believes that American babies are missing out on a range of flavors due to unscientific notions that they can only tolerate bland food.
Earth's Best
Earth's Best is the leading organic jarred baby food brand, widely available at popular stores. The company offers a full line of first-, second- and third-stage foods that contain no preservatives, added sugar or salt. Helpful labels identify which flavors are vegetarian, vegan and gluten-free.
Yummy Spoonfuls(TM)
Yummy Spoonfuls(TM) was the favorite brand of "Cookie Magazine's" 2009 baby food taste test. It features 25 different flavors packaged in frozen single-serve containers. Food is flash-frozen and free of salt, preservatives, gluten, dairy products and sugars.
Healthy Times
Another jarred organic baby food line, Healthy Times offers 22 different flavors, including peach-banana muesli and aloha mango chicken. Healthy Times promises that no soy or dairy is used in its products; the company also explicitly eschews flour and water as fillers. The foods are also salt- and preservative-free.
Homemade Baby®
Homemade Baby® is found in the refrigerated section of major stores. "Cookie Magazine" declared that "babies can't get enough of this brand," which features flavors like "Piwi"--pears and kiwi-- and "Baby Tex Mex," with black beans, corn, brown rice and other vegetables. Homemade Baby® is certified organic.
Petite Palate
Petite Palate offers a line of organic frozen baby food in six gourmet flavors such as apple and pear blended with cinnamon and vanilla and lentil stew with vegetables and an herbal bouquet garni. Petite Palate packages its selections in compostable paper cups, making them extra eco-friendly.
HappyBaby®
HappyBaby® is a popular line of organic baby food endorsed by Dr. William Sears. It comes in convenient, individual ice-cube-sized portions frozen in a plastic tray, with two different flavors included in every package--for example, salmon and prunes or sweet potato and pear. HappyBaby® is widely available in major stores.