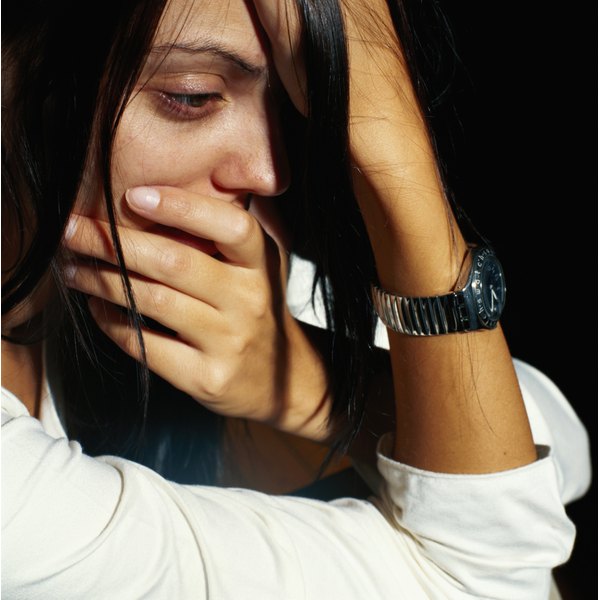 Bulimia nervosa is an eating disorder that leads to episodes of binge eating followed by purging to get rid of excess food. Purging may involve self-induced vomiting, extreme exercise or the abuse of laxatives or other medication in an attempt to compensate for binge eating. Without treatment, bulimia can cause devastating health consequences to the digestive system and other organs. In some cases, bulimia can be life threatening.
Dental and Mouth Problems
People with bulimia who purge via self-induced vomiting are at higher risk for tooth decay and gum disease. Repeated exposure to stomach acids can erode tooth enamel, discolor the teeth and cause chronic gum inflammation. Vomiting, laxative abuse and excessive exercise can also cause dehydration and dry mouth, which promote tooth decay and gum disease. People with longstanding bulimia also commonly develop swelling of the salivary glands, causing swollen-appearing cheeks.
Digestive Disorders
Self-induced vomiting and laxative abuse can cause a host of negative effects on the digestive system. Chronic vomiting can irritate and erode the lining of the esophagus, the tube that carries food from the mouth to the stomach. The esophagus may bleed or tear, and acid reflux is common. Bleeding from the esophagus can affect bowel movements, leading to dark, tar-like stool. Rectal bleeding may occur because people with bulimia tend to experience severe constipation, particularly when abusing laxatives. Stomach ulcers, slow stomach emptying and inflammation of the pancreas, called pancreatitis, are other possible digestive complications of bulimia.
Irregular Periods
Bulimia can affect the release of hormones that regulate the menstrual cycle. About 50 percent of women with bulimia experience irregular or absent periods, report authors of a 2003 review article in "Primary Care Companion to the Journal of Clinical Psychiatry." Since the reproductive hormone estrogen helps maintain bone strength, women with bulimia who have persistently irregular periods are at increased risk for weak or brittle bones, a condition known as osteopenia -- a precursor to osteoporosis.
Kidney and Heart Damage
Repeated episodes of binge eating and purging can damage the heart and kidneys. Chronic dehydration due to bulimia places added stress on the kidneys and, in severe instances, can lead to kidney failure. Even without severe dehydration, people with bulimia are prone to electrolyte disturbances in the blood. Electrolytes, such as potassium, are substances that help control muscle contraction throughout the body, including in the heart. Electrolyte levels may fluctuate due to episodes of purging or due to underlying kidney damage. If potassium levels, in particular, become too high or too low, abnormal heart rhythms can occur. These heart rhythms can ultimately become life threatening and cause the heart to stop.
Seeking Medical Care
Although bulimia can cause a wide range of complications, most of these can be prevented, treated and even reversed. Seeking medical care early in the course of the disease greatly decreases the risk of long-term health effects. If you or a loved one struggles with an eating disorder, speak to your health-care provider as soon as possible.