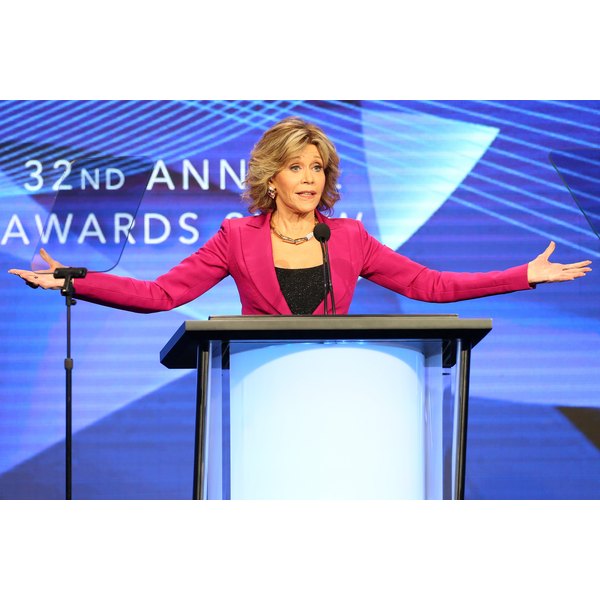 Gone are the days when the topic of sex toys was taboo with older folk. Jane Fonda, 79, isn't shy about sharing that she uses them to jazz up her sex life — proudly admitting to the entire world that she even wears one as jewelry.
During an appearance on "The Ellen DeGeneres Show," the almost octogenarian candidly discussed sex toys and vibrators with the talk-show host, as her character on "Grace and Frankie" is starting a business selling them to the elderly. Instead of keeping the discussion totally professional, she opened up about her own personal experience with the pleasure gadgets, dishing that she did her fair share of research for the role.
"We tried all different kinds of vibrators," she admitted to Ellen. "Use it or lose it, right?"
While most people prefer to store their sex toys somewhere at home, Fonda likes to keep one close to her at all times, because, well, a woman never knows when she will need it, right?
"I have one that hangs around my neck, and it looks like a beautiful piece of silver jewelry," she said, adding that she wears it to dinner on occasion and even uses it in public. "It depends on who you're with and what the bathroom looks like."
Fonda isn't the only postmenopausal woman who is engaging in a little sex-toy action. According to a survey of more than 8,000 people conducted by the authors of The Normal Bar, 60 percent of women and 40 percent of men are using them individually or as a couple. In an article for AARP, Dr. Pepper Schwartz suggests that sex toys are a great option because women over 50 have a harder time reaching orgasm level than when they were younger — primarily because there is less blood flow to the genitals and there are less testosterone and estrogen being produced.
Regardless of age, you, too, can follow in Fonda's pleasure-fashion-forward footsteps by rocking your own vibrator jewelry. While Fonda never specified the brand of her bling, Goop, The New York Times and Harper's Bazaar-endorsed vibrator company Crave offers some super-chic options. Whether you opt for leather cuffs complete with a lock or a USB rechargeable vibrator necklace, you can discreetly masturbate in restaurants and nobody will ever know. I'll have what she's having!
What Do YOU Think?
What are your thoughts on Jane Fonda's candidness about using sex toys? Should more senior citizens use them? Would you wear a sex toy as jewelry?