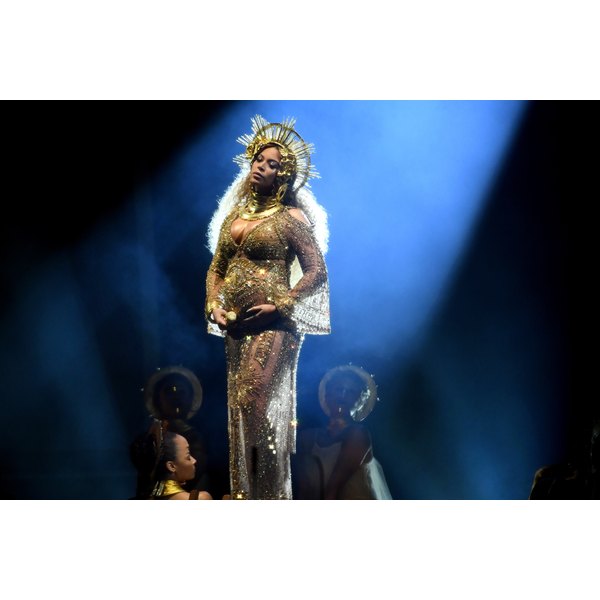 SoulCycle is the go-to workout for Hollywood's elite, so it should come as no surprise that Beyoncé is a fan. What is a little startling, however, is that the 35-year-old is dragging her "Bootylicious" behind into classes at the cycle studio on an almost daily basis — while pregnant with twins!
According to a new report, Queen B has been getting her spin on at various SoulCycle studios across Los Angeles. "She's been taking a class almost every day," an insider dished to Us Weekly. While she usually saddles up next to husband Jay-Z, she attended an evening class at the boutique fitness brand's West Hollywood studio on March 8 with pal and former Destiny's Child bandmate Kelly Rowland — alongside Usher, Lee Daniels and Jenna Dewan Tatum, of course.
Onlookers claim that Bey and Jay usually subtly saddle up "several times a week" after the lights are dimmed and leave early. Her go-to teacher? Angela Davis, also adored by Oprah Winfrey.
In case you are concerned about the buns currently cooking in the singer's oven, don't be. "If your thing is SoulCycle, and it's something you and your doctor feel good about, you don't need to stop just because you're pregnant! As long as exercise has been a part of your life leading up to your pregnancy, there is no reason to change up a healthy, positive part of your life," SoulCycle instructor Stephanie Pearl explains on the SoulCycle website.
Because Bey is pregnant with twins she's likely being extra cautious and clearing all physical activity with her physician, but SoulCycle as well as other workouts that don't require her to be on her feet — including swimming and prenatal yoga — should be safe options.
In fact, most exercises (with a few exceptions) are safe and even encouraged for pregnant women. Downhill skiing, contact sports like soccer, football and basketball, scuba diving and fall- and injury-risk activities like gymnastics, horseback riding or water skiing are to be avoided, according to the American Congress of Obstetricians and Gynecologists. Most pregnant women should also avoid racquet sports like tennis, badminton and racquetball or any other strenuous activity that they aren't in the habit of doing.
In addition, after the first trimester pregnant women should avoid any exercises that require laying on the back, including some yoga poses and Pilates moves, jumping or bouncing exercises or any other exercises that involve sudden changes in movement, according to KidsHealth.org.
So keep getting into daily SoulCycle formation, Beyoncé — once those babies are born, you may not have the time.
What Do YOU Think?
Do you exercise while pregnant? What are your favorite pregnancy workouts? Do some women work out too much during pregnancy?