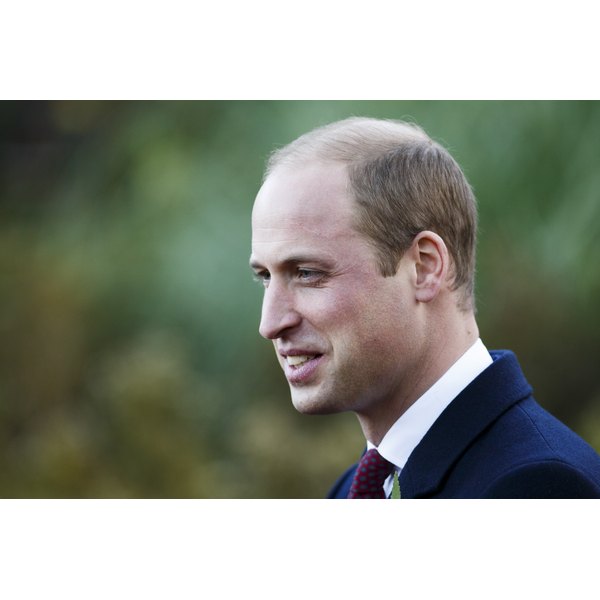 If there weren't already enough reasons to be fans of Prince William, his latest speech has officially crowned him the monarch of our hearts. The Prince took his opportunity at the podium to open up about an issue that can affect anyone, even his royal highness: anxiety and mental illness.
Prince William and wife Kate Middleton have long been trying to change the face of mental illness by trying to help bring about more honest conversations on the topic. Most recently, the father of two spoke at the London Guild of Writers about the importance of eliminating taboos on the subject and his own experience in order to inspire much-needed change.
And speak out is exactly what his majesty did — making him not only a prince, but also a boss.
"If you were anxious, it was because you were weak. If you couldn't cope with whatever life threw at you, it was because you were failing," the prince bravely said. "Successful, strong people don't suffer like that, do they? But, of course, we all do. It's just that few of us speak about it."
Can we get a "hell yeah"?
The prince admits that his awakening on the true nature and effects of mental illness and anxiety was gradual, but now he encourages everyday people to realize that poor mental health can affect literally anyone. He calls the lack of understanding "a major issue in our society" — one that is "much greater than anyone cared to admit."
William, along with his wife and his brother, Prince Harry, created the Heads Together charity in order to help end the stigma so that more and more voices can be heard.
"On average, it takes a sufferer 10 years to admit to a problem," he explained. "This means that what often starts as a fairly minor issue becomes something serious and medical after time. Silence can kill; but talking can lead to help and support."
He added, "The suicide rate among young men in this country is an appalling stain on our society. Suicide is the biggest killer of men under 40 in this country. Not cancer, not knife crime, not road deaths — suicide. If one of these other issues took so many young lives, there would be a national outcry. This silence is killing good people."
Speaking of silence: If you feel like you're being affected by anxiety, depression or any other mental illness, don't be afraid to reach out to friends, family or a mental-health professional. Just like William points out, often the worst thing that you can do is to stay silent about your struggles. Plus, with people like the prince on your side, you've already got a leg up on being brave enough to share.
Let's help Prince William by adding our voices to this important conversation.
— Rosy Cordero
Rosy Cordero is an entertainment and lifestyle writer based in Los Angeles. She has nearly 10 years covering celebrities and has been published in Variety, Latina, Variety Latino, Vice, Teen Vogue and NBC. When Rosy is not busy working the red carpet, she's hot on the trail of her next exclusive.