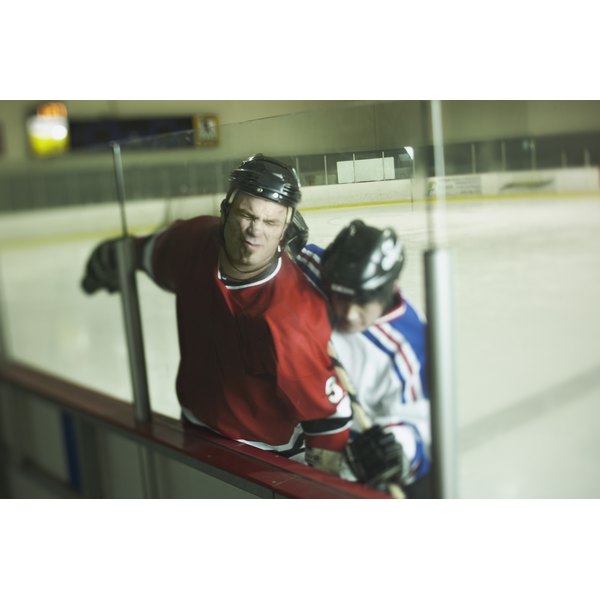 Hockey involves quick skating, fast shooting and hard-hitting. While this makes hockey exciting, it also makes it dangerous. Falling, taking a puck in the head, or being checked into the boards can all lead to head, face and neck injuries. To protect yourself, it's necessary to have a helmet in good working order. Helmet lifetimes should last for several seasons, but major impacts can shorten their usefulness. Also, helmets need to be changed if they get too small for growing players.
HECC
In the United States, hockey helmets are certified for 6 ½ years by the Hockey Equipment Certification Council. Anyone under 21 playing in a sanctioned league has to use an HECC certified helmet, and each one carries an expiration date. When that date passes, it's time to change your helmet.
Major Impact
Most helmets aren't designed to take more than a few major hits. Styrofoam helmets provide good protection since they're soft and absorbent, but one big hit can put one out of commission. Certain polymers get around that with "shape memory" that makes them return to form after a major impact. Even so, you should change a polymer after several major impacts. It's considered a major impact if the helmet gets hit by a puck or stick, or your head takes a hard hit against the boards or ice. Even a dropped helmet can be a major impact.
Used Equipment
Hockey equipment can be expensive, and it's common practice to buy it used to save some cash. However, you should never buy a used helmet since you don't know how many major impacts its had.
Helmet Fit
Fit can also determine when it's time to replace a helmet, especially for growing children. Never buy an oversized helmet because you know the child will grow into it. Almost all helmets are adjustable, meaning you can keep using the helmet even with some growth. The helmet should always fit snuggly but not so tight that it causes pain. It's time to get a new helmet when it's adjusted as large as possible but still feels too tight.